Interior Painting: A Cost-Effective Way To Transform Your Home
Have you recently moved into a home that has painter's white all over the walls?
Are you considering selling your home, but not sure what you can do to increase the value?
Have you been in your home for a while surrounded by the same painted walls for years?
These questions have one solution in common…
Interior Painting!
Regardless of how long you have been or will be in your home, interior painting is a great, cost-effective way to transform your home! A fresh coat of paint does wonders for any room in the house.
Benefits of Interior Painting
A professional interior painting job leaves your home better than it was before. It's cost-effective and requires minimal work on your part. Other benefits include:
Personalized Space
When you move into your home, the paint colours are chosen for you. The colour scheme that is there was chosen by the last person who lived there. Interior painting is your opportunity to:
Pick colours that match your furniture
Coordinate your decor and colour scheme
Let your personality shine
Colour has this amazing way of making us feel a certain way. There is an interior paint colour for every mood. For instance, if you want your bedroom to help you feel calm and relaxed, painting the walls a cooler tone, like pale blue, will help with just that.
Prevent Damage To Your Walls
Interior painting is not just about aesthetics; there is also a practical aspect to this cost-effective investment. A quality paint job can go a long way in protecting and preventing your walls from damage.
A fresh coat of paint can protect your walls from daily wear and tear such as furniture rubbing against the wall or accidental damage done by pets or kids.
Interior paint is also designed to keep moisture from getting into the walls of your home. Protecting your home's structural integrity and preventing mold from growing.
Increase The Value Of Your Home
One of the simplest and least expensive ways to increase the resale value of your home is through interior painting. Giving your home this fresh feel sends the right message to potential buyers about how well you have cared for your home.
Even if you are not looking to sell anytime soon, a professional interior painting job lasts years! It's a cost-effective investment that will truly pay off in the future.
Improve Air Quality
Similarly to most of the products used to build homes over the years, the quality of the material has changed. Paint quality has significantly improved over the last few decades. These changes have been made with our health in mind.
High-quality interior paints are created with little to no VOCs (Volatile Organic Compounds). These compounds would release into the atmosphere over time causing respiratory and health problems for homeowners.
Interior painting is a great way to improve the air quality and health of people with allergies or sensitivities to chemicals.
Interior Painting Inspiration
The right choice of interior paint can completely transform the look and feel of your home. Here's some inspiration to get you thinking about your next interior painting project.
Make A Statement With Interior Painting
Use interior painting services to make a statement within your home. Go for some bold colour choices that speak to your personality.
Think carefully about the room you are decorating and then think about the vibe and atmosphere you want to create. Kids room or shared spaces are a great place to experiment with vibrant colours to convey the welcoming and fun atmosphere of those rooms.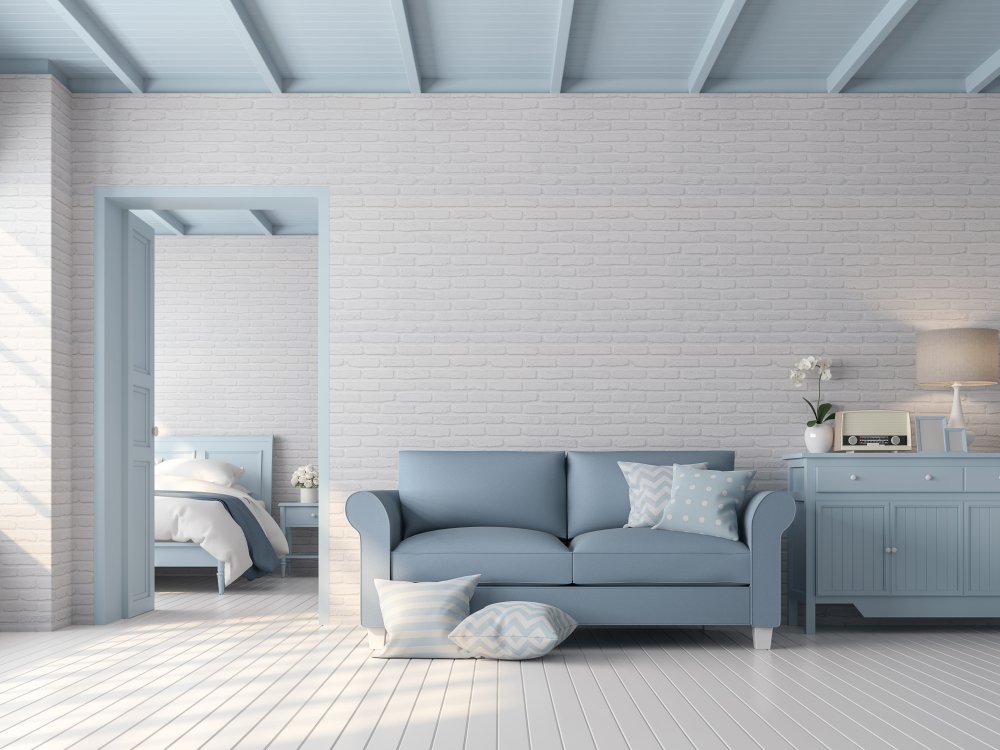 Add An Accent Wall
Everybody loves a good accent wall, and for a good reason! Accent walls are the perfect way to upgrade a plain, boxy room with a pop of colour.
Picking a colour for an accent wall can dramatically change the style of your room in an instant. Dark and dramatic accent wall colours pop in a well-lit room and provide a clean contrast against whites and off-whites. Even if you are not looking to make any bold colour choices, a more restrained accent wall with softer hues creates a more elegant look.
While getting a professional interior painter to freshen up your walls, considering adding that pop of colour through an accent wall.
Build Character With a Painted Ceiling
A white ceiling is always a classic, however, a ceiling paint colour can really enhance the character of any room in an unexpected way. Finding the perfect colour to paint your ceiling is all about the design of the room and how it leads into the ceiling.
A lighter ceiling paint colour can create a subtle contrast from the colour you have on your walls. It can also provide a playful touch to a more formal looking room.
If the architecture of your ceiling is less conventional, painting your ceiling can help bring attention to features such as crown moulding or vaulted ceilings.
Create Space With Your Paint Choice
In smaller spaces in your house, interior painting can be a great way of making the room feel bigger than it is. For instance, in smaller rooms with lower ceilings, like most partial bathrooms, lighter colours can help the space look larger and taller.
A professional interior painter can help you with colour choices that will work for the space you are looking to transform.
Why You Should Hire Interior Painting Professionals 
Knowledge & Experience
Professional interior painters have years of experience that they bring to every job. They are trained and equipped with the right tools, equipment, and techniques to ensure a picture perfect finish. If you have no experience painting, a professional crew will save you from a big headache.
Quality Products
Professional interior painters know which products are the best and which tools to use for every type of job. Using only the highest quality products will result in a better finish and an overall smoother painting project.
Attention to Detail
Every single roll and brush strokes counts, every little detail can make or break the perfect paint job. There are countless details to consider when choosing paint colours, application methods, and types of paint. Professional painters can make the job easy.
Fast Turnaround Time
A professional painting service understands the value of time. You want to enjoy your new space as soon as possible. Hiring a painting crew ensures a quick and efficient interior paint job. You'll be enjoying your newly painted space in no time!
Less Stress
One of the biggest benefits of hiring professional painters is you getting to relax. No need to spend hours on your weekend and spending your free time painting… hire the experts. Sit back, relax, and your space will look like new without you having to stress.
Exceptional Results
You will be working with licensed and trained professionals. This means getting insurance and assurance that your interior painting project will not be done until you are satisfied. 
Interior Painting With MR Painting
Interior painting is a cost-effective and simple way to completely transform your home.
At MR Painting our team is committed to delivering the best interior painting services for Ottawa homeowners. We go above and beyond to deliver the best results to happy clients.
Contact us today to find out more and get your free, no-obligation quote for interior painting in Ottawa.